STUDENT AMBASSADORS ALUMNI REUNION
The Student Ambassadors Alumni Reunion was held successfully on 11 May 2022 (Wednesday). Student Ambassadors Alumni and current Student Ambassadors were invited to join the reunion.
Vice-President (Organisational Development) Dr Tom Fong, Associate Vice-President (Development and Campus Services) Ms Antonia Yeung, Director of Student Affairs Ms Esther Lee, and Advisor of the Student Ambassadors Programme Dr Holly Chung greeted the alumni and had a good time chit-chatting with them.
Apart from sharing their recent lives after graduation, the alumni also reminisced about the happy times when they were student ambassadors.
The objectives of the Student Ambassadors Programme are to develop and explore students' unique potentials in becoming professional Student Ambassadors of the University and future leaders, to serve and promote the University to the public, and most importantly, to demonstrate and spread the "To Learn + To Serve" spirit. The spirit of Student Ambassadors will be passed on and will shine, even after their graduation.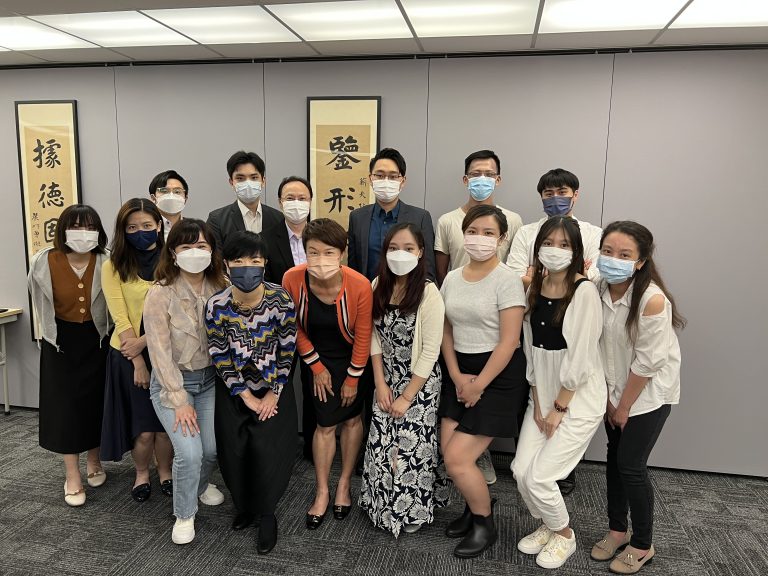 (Upper row) Dr Holly Chung (second from left); Dr Tom Fong (fifth from left);
(Lower row) Ms Antonia Yeung (second from left); Ms Esther Lee (third from left) pictured with Student Ambassadors and alumni